Our Five Year Plan
During the 2021-2022 academic year we conducted a full review of the five year plan which ran from 2017 to 2022. During this review we asked our Trust Board, our Governors, our TSLT (Trust Senior Leadership Team), SLTF (Senior Leadership teams Forum), TOLT (Trust Operational Leadership Team) staff and Student Councils for their views in order to construct the plan for the next five years.
This plan is now in place and a copy can be downloaded below. We would very much welcome any further comments you have about this plan. It is reviewed each year in March when we use it to set the goals for the coming year.
Download the latest version of the 2022-2027 Plan
A summary of the key sections you can find in the report appears below:
Pages 3, 4 and 5 we re-iterate our shared values and principles.
Page 6 is our 'Pocket Guide' which summarises the Trust Priorities for the coming year.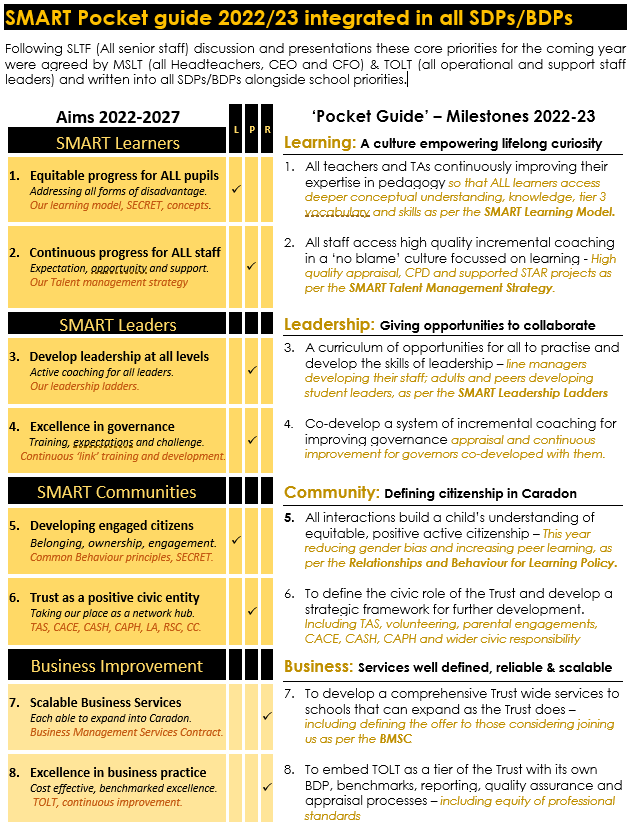 On pages 7 to 18 each of the eight goals are described in more detail including: Key Drivers and Indicators; Long term Goal; and Key Strategies we plan to use to achieve these goals.
The final section links to key documents, key professional reading that has influenced this plan, how it is to be reviewed and the responsibilities each role has in relation to it.