Looe 10 Miler medals designed by Looe Community Academy student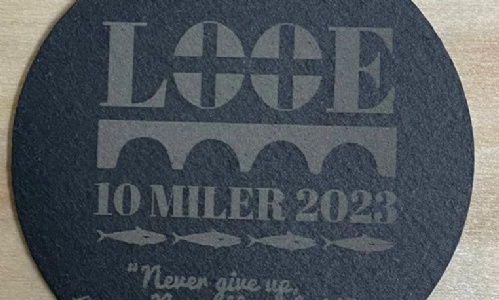 Looe Community Academy students put their artistic skills to the test by designing this year's Looe 10 Miler medal. The school received an array of outstanding entries, but it was year 7 student Poppy's design that stole the show.
Poppy's medal design captures the essence of Looe by featuring the iconic bridge that all runners cross at the start of the race. The design was hailed as the winner, and Little Cornish Creative Co. used it to create the final product.
The winning artwork was transferred onto slate medals by Zero Waste Medals. The final product is a sight to behold, and we are thrilled with the outcome.
If you're running the Looe 10 Miler this year, you're in for a treat. The medal, designed by the talented Poppy, will be waiting for you at the finish line. We hope the medal serves as a reminder of your hard work and achievement in this challenging race.
Congratulations to Poppy and all the students who participated in the competition. The Looe 10 Miler medal is a testament to their creativity and talent.