World Book Day Celebrations Across the Trust: A Showcase of Reading, Writing, and Creativity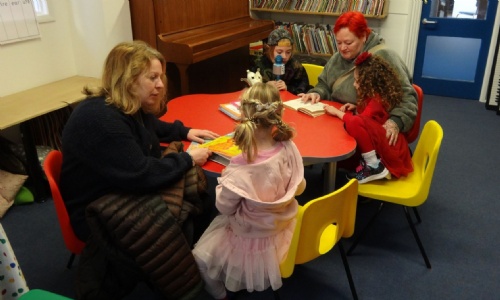 World Book Day is an annual celebration of reading and literature that takes place in over 100 countries worldwide. This year, schools across the Trust took part in a variety of activities to mark the occasion.
At Liskeard School and Community College, students had the chance to participate in creative writing and comic book competitions. Several students attended a workshop to hone their skills, share their work, and receive valuable feedback.
Saltash Community School organised a World Book Day quiz, which was a resounding success. The English department worked hard to come up with challenging questions that tested the students' literary knowledge, and they were pleased to see such a high level of participation and engagement from the students.
At Dobwalls Community School, author Simon James visited for the day, leading three workshops with the whole school. He told his wonderful stories, enlightened the children on their meanings, and made everyone laugh with his fantastic charisma and voices.
Trewidland Primary and Pre-School celebrated by dressing up as their favourite literary characters. The event was a huge success, with everyone enjoying the opportunity to showcase their creativity and express their love for books.
Landulph Primary School students and staff also celebrated World Book Day with great enthusiasm and energy. The event was a fantastic way for everyone to show their love of reading and books, with a wide range of book-themed activities, including storytelling sessions, book quizzes, and dress-up competitions.
World Book Day is an important reminder of the many benefits of reading, including improved literacy skills, increased creativity, and enhanced empathy and understanding of others. By encouraging children and adults alike to read and explore the world of books, we can help foster a love of learning that will last a lifetime. Let's celebrate World Book Day, not just on the day itself, but every day, by making reading a part of our daily lives.